Cupola Conversations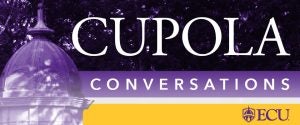 ECU and the Division of Student Affairs continue to be a statewide and national leader in support of and education on freedom of expression and civil discourse and as such launched Cupola Conversations in 2016. The program aims to create informal opportunities for the university community to engage in constructive dialogue about various topics that affect our student, faculty, staff, and greater community.
Cupola Conversations are held in a live Town Hall style format through Microsoft Teams, Zoom, and/or in-person. The program features a panel discussion promoting the ideals of civil discourse and free speech. Panelists will share opinions and thoughts about what they believe is needed to engage in better, more constructive, conversations about a specific topic or general concept.
Our objective is to promote a shared understanding of the value of civil discourse across the spectrum and to create and maintain a welcoming campus climate for everyone. Additionally, this initiative will serve to create an institutional culture that promotes and nourishes difficult conversations throughout university life.
The Cupola Conversations schedule consists of two to three planned Cupolas annually, allowing for additional programs as needed based on the needs of our community. Throughout the last six years there have been 32 Cupola programs with over 2,000 participants.
---
Fall 2022 Schedule
October 6 – Gender Equity and Civil Unrest in Iran at 3pm

Click here to join the conversation on Microsoft Teams
Previous Cupola Conversations
June 4, 2020 – Driving Out Darkness: Influencing Change
June 18, 2020 – Driving Out Darkness: Breaking Down Barriers
July 16, 2020 – Driving Out Darkness: Students Empowering Students
August 12, 2020 – Decision 2020: Civil Discourse in the Classroom
October 1, 2020 – Decision 2020: Bridging the Divide
November 12, 2020 – Decision 2020: What's Next
January 21, 2021 – What the Inauguration Means to Me
March 24, 2021 – Future Focused: A Special Conversation with Chancellor Philip Rogers
March 31, 2021 – Racism and Violence Against the Asian Community
April 26, 2021 – Reflecting on a Year of Loss
September 8, 2021 – 9/11: How Far Have We Come?
March 2, 2022 – You Matter: Getting Real about Student Mental Health
September 8, 2022 – Summer of Change: Exploring Legislative Impacts on Students, Staff, and Faculty
Visit our YouTube Channel for the closed-caption version of this video.